Israel 2013
: Leaping toward the precipice -
Prelude to WWIII
Tweet
It isn't over 'til its over
As close as the world got to a global (possibly nuclear) conflict over Syria just weeks ago ...with all the players still in place, everything could get very ugly over night.
In all practicality, anyone with a brain should be holding on to their butts. It (SHTF) is about to hit the fan.
Events presented in this article over the past several months should lead anyone with a little common sense to understand the inevitable, that a finale is very near, what will happen and why.
Leaping toward the precipice
Ahead of an historic deal signed in Geneva despite the concerns repeatedly
expressed by
Israel
...Iran's supreme leader says "Zionist officials cannot be called humans"; Israeli expert: Harsh talk meant "to set stage for deal."
Khamenei took swipes at Israel and France during his speech to tens of thousands of volunteer Basij militiamen in Tehran, broadcast live on Iran's Press TV.
"Zionist officials cannot be called humans, they are like animals, some of them," said Khamenei.

"The Israeli regime is doomed to failure and annihilation,"

he said.
The "Zionist regime" says things that "only bring humiliation on themselves," he said, adding that it is a regime that "emerged through force, and no phenomenon that has emerged through force has continued to exist – and this regime will not continue to exist either."
The allegations that Iran poses a threat to the world are the "words of enemies," he said, referring to some countries, such as the "rabid dog of the region, namely the Zionist regime," as quoted by Iran's Tasnim News Agency.
Prime Minister Binyamin Netanyahu characterized the agreement signed with Iran early Sunday morning as a historic mistake

.
Directly contrasting US President Barack Obama who praised the agreement as opening a "new path toward a world that is more secure," Netanyahu – speaking at the weekly cabinet meeting -- said the world has become more dangerous as a result.
"What was agreed last night in Geneva is not a historic agreement, it is a historic mistake," he said. "Today the world has become much more dangerous because the most dangerous regime in the world took a significant step to getting the most dangerous weapon in the world."
Netanyahu said the consequences of this deal threaten many countries, including Israel. He reiterated what he has said in the past, that Israel is not obligated by the agreement.
"Iran is committed to Israel's destruction, and Israel has the right and the obligation to defend itself by itself against any threat" he said. "I want to make clear as the prime minister of Israel, Israel will not allow Iran to develop a military nuclear capability."
Iran and Syria will accept the nuclear deal as a victory over Israel (endorsed by the international community), and justification for their stance on Israel.
Israel can only see (amid threats such as these) that it is only a matter of time ....with or without Iran having nuclear weapons capability.
Essentially, with the deal just made in Geneva, any of whats left of Israels allies has been shoved out the door with Israel out on a limb.
The Sampson option may become the only option.
'Netanyahu Serious About Striking Iran'

Wednesday, October 16, 2013 | Israel Today



Prime Minister Benjamin Netanyahu on Tuesday issued another thinly-veiled threat to strike Iran's nuclear program if it continues, and a retired senior security official warned that the Israeli leader is deadly serious.


Speaking at a ceremony marking the anniversary of the Yom Kippur War, Netanyahu explained that the surprise Arab attack in 1973 had taught Israel to "never underestimate a threat" and that "we can't surrender the option of a preventive strike."

Some Israeli leaders, including then Defense Minister Moshe Dayan, at one point feared they would lose the Yom Kippur War and that the reborn State of Israel would be annihilated.

Netanyahu said that while launching preemptive attacks was a heavy decision to take, the price Israel could pay for doing nothing often justified such action.
All threats to Israel remain a constant concern
Technically, nothing has changed amid the proposal and delay of what was to be a strike against Syria by the United States, over allegations of the chemical weapons attack which killed over 1400 Syrians.
Pressure remains on Syria to hand over all control of the country's chemical weapons or face military action. Now in the UN Security Council arena, a partial submission of detail as to the status and locations of Syrian stockpiles was handed over by Syria while Russia presses the innocence of Assad as a third party allegedly staged the chemical weapons attack to look like Assad's army initiated the attack to provoke a strike and overthrow of Assad by the United States and/or Israel.
However...
Experts Warn of Al Qaeda Biological Weapons Threat
2013-10-16 22:39:08 Arutz Sheva

Experts warn of "grave danger" to global security over Syrian bioweapons; say Al Qaeda may already possess lethal agents.
As international attention in Syria focuses on efforts to dismantle the Assad regime's chemical weapons stockpile, British experts are warning of another, potentially more lethal threat.

Experts from the Henry Jackson Society (HJS) have issued a stark warning over what they say is the "clear and present danger" of Al Qaeda gaining possession of the Assad regime's stockpile of biological weapons, claiming to have substantial evidence that Al Qaeda-linked groups may already have possession of toxic agents.
While all eyes have been on these most recent events, word circulates that US military is being called up for an event as early as within the next two weeks from this update while the United States is doing Minuteman ICBM (nuclear) tests and Obama and Netanyahu meet in Washington with increasing rhetoric regarding Iran's nuclear progress.
Russia and The United States remain poised in the Mediterranean for a moments notice as more ships enter the area.
There is no indication beyond delay, that a major war in the area surrounding Israel, and Israel itself, is NOT going to happen sooner than later.
In a perfect world Russia's intentions to stay out of the conflict would be a good thing ...but with Russian military assets increasing their presence in the Eastern Mediterranean and unknown elements capable of producing unintended consequences, it is more likely US strikes on Syria will trigger escalation dragging Russia in and more feasible.
Amid threats of a US or Israeli airstrike on Syria (and now, increasing probablity of an Israeli preemptive strike against Iran), Syria, Iran and Hezbollah have vowed retaliation against Israel.
Israelis ready themselves with gas masks as Israeli Military forces brace for an escalation of activity against Israel resulting from a US/NATO strike on Syria.
Recent events create a collision course with destiny ...being a war involving Israel that escalates into a global confrontation.
It isn't knowing a little about a lot of things ...but how the pieces collectively fit together. A continuous under current works at undermining any peace effort to stabilize the Middle East and threats to Israel's existence.
The recent build up by the United States and counter efforts to prevent a US airstrike against Syria merely provided an excuse for positioning super powers in the Middle East for what is soon to come.
Only the rhetoric has changed, shifting the focus from Syria back to Iran following a brief sigh of relief for Humanity over recent efforts preventing a nuclear World War over Syria which experts have confirmed was only hours away as the international community was bracing for a worst case scenario.
Meanwhile, recent events which have been unfolding during the span of only weeks to less than six months are only the beginning of an avalanche.
At some point, ... it will be too late for effective political action. ... there reaches a point where it won't matter who's president and it won't matter how devoted the global community is ...the damage will be out of control.
Russia sends warship with 'special cargo' to Syria
Agence France-Presse (AFP)06 August 2013
A Russian warship carrying "special cargo" will be dispatched toward Syria, a navy source said on Friday, as the Kremlin beefs up its presence in the region ahead of possible US strikes against the Damascus regime
"The ship will make call in Novorossiisk, where it will take on board special cargo and set off for the designated area of its combat duty in the eastern Mediterranean," the source said.
The source did not specify the nature of the cargo. Read More
As the pieces are coming together quickly, though lengthy ...no detail in this article should be overlooked.
The Burden of Damascus?
(Reuters) - Russia said on Wednesday that a military strike on Syria could have catastrophic effects if a missile hit a small reactor near Damascus that contains radioactive uranium.
04 September 2013
"If a warhead, by design or by chance, were to hit the Miniature Neutron Source Reactor (MNSR) near Damascus, the consequences could be catastrophic," a ministry statement said.

It said that nearby areas could be contaminated by highly enriched uranium and that it would be impossible to account for the nuclear material after such a strike, suggesting it could fall into the hands of people who might use it as a weapon.
Israel will strike back "fiercely" if Syria attacks, Prime Minister Binyamin Netanyahu warned Tuesday
Virtual Jerusalem 2013-08-27 17:49:17
"The state of Israel is prepared for every scenario," he said. "We are not part of the civil war in Syria, but if we detect any attempt to hurt us, we will react, and react fiercely."

A top Syrian official warned Monday that if attacked, Syria will react against Israel. Syrian Deputy Information Minister Halaf Al-Maftah claimed that Iraq, Lebanon and Iran would join Syria in hitting Israel if Western nations attack in Syria, and that Syria has "strategic weapons" it could use against the Jewish state
.
Read also:
Recent events
Syria 'Chemical Weapons' Crisis: Live Updates
White House officials say the United States may launch a limited military strike on Syria as early as this Thursday as the intelligence community prepares to release a report justifying action and allies are rallied.
International pressure has been building for a military strike on Syria in the wake of an alleged chemical weapons attack in a Damascus suburb. The West has laid the blame at the feet of President Assad, as UN inspectors probe the site of the attack.
U.N. chemical weapons experts visit a hospital where wounded people affected by an apparent gas attack are being treated, in the southwestern Damascus suburb of Mouadamiya, August 26, 2013. (Reuters)
27 August 2013 17:17 GMT
: The US will release a public version of an intelligence report on chemical weapons use in Syria "in the coming days," White House spokesman Jay Carney said. He added that the options the US government is considering "are not about regime change" in Syria, but will come as a response to the "violation of an international norm."
"A decision about the use of military force has not been made. The president is reviewing his options, plural," the White House spokesman said.
According to the

Washington Post

, the likely response from Washington would be a sea-to-land strike from the Mediterranean that would last no longer than two days and would not be directed towards targets where the chemical weapons arsenal is believed to be stored.
But while an attack is all but imminent and will likely be launched from warships already mobilized in the Mediterranean by the week's end, public support in the US has teetered towards nil as of late.
The Obama administration says there is undeniable proof that chemical weapons were used on civilians outside of Damascus on August 21, but a five-day-long Reuters poll taken during that time concluded only nine percent of Americans favor intervention.
29 August 2013
US sends 5th destroyer to eastern Mediterranean
Thursday Aug 29, 201308:03 PM GMT Press TV Iran
A fifth US Navy destroyer is on its way to the eastern Mediterranean as Washington and its allies are mulling over a possible attack on Syria.
The US has already beefed up its military presence in the eastern Mediterranean. According to media reports, four US warships and a submarine are in the region and a fifth is on the way. All destroyers are cruise-missile equipped.
On Wednesday, US President Barack Obama said Washington has "concluded" that the Syrian government used chemical weapons in an attack near the capital, Damascus, last week.
David Cameron and Barack Obama moved the west closer to military intervention in Syria on Saturday as they agreed that last week's alleged chemical weapon attacks by the Assad regime had taken the crisis into a new phase that merited a "serious response".
Meanwhile...
In other related matters
Relevant events in the media and behind the scenes following the alleged chemical attack killing in excess of 1400 innocent civilians in Syria hundreds of who were children and women are significant miltaries and world leaders have been preparing for an almost certain U.S. strike on Syria in response to the atrocity.
Saudis offer Russia secret oil deal if it drops Syria
Tuesday 27 August 2013
Saudi Arabia has secretly offered Russian a sweeping deal to control the global oil market and safeguard Russia's gas contracts, if the Kremlin backs away from the Assad regime in Syria.
Mr Putin was unmoved by the Saudi offer, though western pressure has escalated since then. "Our stance on Assad will never change. We believe that the Syrian regime is the best speaker on behalf of the Syrian people, and not those liver eaters," he said, referring to footage showing a Jihadist rebel eating the heart and liver of a Syrian soldier.

Read More
Syrian authorities also warned the United States against any military intervention, saying this would "inflame the Middle East".
"US military intervention will create very serious fallout and a ball of fire that will inflame the Middle East," Information Minister Omran Zoabi told the Syrian state news agency, SANA.
Iran has warned the US not to cross "the red line" on Syria threatening it would have "severe consequences" for the White House. This follows a statement from Syrian officials who said a strike would create "very serious fallout" for the whole region.

Read More
Syria: Attacking us would ignite the Mid East in flames




DEBKAfile August 24, 2013, 8:33 PM (GMT+02:00)



Syrian Information Minister Omran al-Zoubi threatened Saturday night that that if the US attacked his country "A mass of flames will ignite the Middle East."
Syrian ruler Bashar Assad has more than once declared that if the Syrian capital Damascus came under threat, he would resort to chemical warfare and the entire Middle East including Israel would go up in flames. For now, his army is fighting to keep the rebels from taking control of southern Syria.
Not only is the entire region at risk, but the entire region is prepared.
7 Years Later, Hezbollah Has Developed Capabilities to Strike Anywhere in Israel
Published July 11, 2013, Israeli Defense Forces
From
Israel 2013
:

Where things go wrong

..what will happen and why
Latest Update Monday, July 22, 2013 at 10:27:29 PM IDT
The organization's missiles endanger Israel's entire population. Hezbollah's upgraded stockpile can strike at any of Israel's civilian centers, including its southernmost city of Eilat. Thousands of missiles can strike targets within 40 kilometers, placing Israel's northern region at risk of a devastating attack.
Hezbollah leader Hassan Nasrallah has boasted about the broad reach of Hezbollah's missiles. In a 2007 news interview, he asserted that the group's missiles "could absolutely reach any corner and any point" in Israel's territory. In a speech in August 2012, he proclaimed that a future Hezbollah assault would "turn the lives of thousands of Zionists into a living hell."
19 August 2013
Astonishing UNHCR photo shows mass exodus of #Syria refugees fleeing to #Iraq on newly constructed pontoon bridge.
23 August 2013
Official: US military updates options for possible strikes on Syria
CNN updated 2:54 PM EDT, Fri August 23, 2013
Obama told CNN in an interview broadcast on Friday the United States is working with the United Nations to gather information on the alleged attack, but noted that preliminary signs point to a "big event of grave concern."
Dempsey : A chief problem has been identifying those rebels the United States would happily deal with vs elements said to be militants, including some with ties to al Qaeda.

"It is my belief that the side we choose must be ready to promote their interests and ours when the balance shifts in their favor. Today, they are not," he said in the August 19 letter.
Dempsey also warned that even limited military action in Syria could lead to deeper involvement.

Read More
Reports claim US-trained and led Syrian rebels are advancing on Damascus
22/08 23:54 CET euronews
Two separate reports, one French and the other Israeli, are claiming that Jordanian, Israeli and American commandos are leading hundreds of Syrian rebels they have trained in a push on Damascus.
The reports claim a force of some 300 men crossed into Syria from Jordan on August 17, with a second group crossing on the 19th. The advance has been felt as far as Ghouta and, say some, may add legitimacy to claims the Syrian regime used gas in an attack on the rebel-held eastern suburb of Damascus on Wednesday.
President Bashar al-Assad has always denied using gas in the past, but equally always warned it would be used if "foreign invaders" joined the rebels and threatened the capital. He has denied bombing the suburb with nerve gas.
21 August 2013
Damascus chemical strikes kill over 1300, activists say




Now News



Pre-dawn chemical weapon strikes on a number of Damascus suburbs have left over 1300 people dead as the regime barraged the areas with artillery and missiles, activists reported Wednesday morning.

Most of the casualties were reportedly women and children.

Read More
A handout image released by the Syrian opposition's Shaam News Network shows a man taking the body of a child wrapped in shrouds from a line of victims which Syrian rebels claim were killed in a toxic gas attack by pro-government forces in eastern Ghouta, on the outskirts of Damascus on August 21, 2013. (AFP Photo / Daya Al-Deen)

debkafile reports exclusively that Assad is acting to counter the first organized incursion of US-trained Syrian rebels from Jordan into southern Syria. The first group of 250 rebels, trained in special operations tactics by US and Jordanian instructors, entered Syria Saturday, Aug. 17, armed with weapons of Russian provenance supplied by the US and Saudi Arabia.
"A homemade rocket with a poisonous substance that has not been identified yet – one similar to the rocket used by terrorists on March 19 in Khan al-Assal - was fired early on August 21 [at Damascus suburbs] from a position occupied by the insurgents,"

Lukashevich said.
Earlier on Wednesday, conflicting reports emerged of recent chemical weapons use in Syria. This comes on the same day that the UN inspectors arrive in Damascus to investigate allegations of use of toxic arms. The casualty figures range from dozens to almost 1,300 deaths.

Read More
United States' increasing involvment
Syria is "probably the most important issue in the world today because of where it is currently heading," Morell said. He added that Iran, core al-Qaeda, and the North Korean government are following just behind S


A senior Defense Department official told CNN on Friday that target lists for possible air strikes have been updated. The planning also included updates on the potential use of cruise missiles, which would not require fighter pilots to enter Syrian airspace.

Read More
The second-in-command of the Central Intelligence Agency (CIA) says that the toppling of Bashar Assad's regime in Syria is the largest threat to United States national security and may help al-Qaeda acquire chemical weapons. Russia Today

August 07, 2013
New Centcom underground war room in Amman for US intervention in Syria
DEBKAfile Video August 17, 2013, 1:58 PM (IDT)
Gen. Martin Dempsey, Chairman of the US Joint Chiefs of Staff, was in Amman this week to inaugurate the Centcom's Forward Command in Jordan manned by 273 US officers. US media correspondents were permitted to visit the new war room for the first time on condition of non-disclosure of its location and secret facilities.

debka

file

's military sources report that the installation is bomb- and missile-proof against a possible Syrian attack.
There are today some 1,000 US military personnel in the Hashemite Kingdom, plus a squadron of F-16 fighters and several Patriot anti-missile batteries strung along the Jordanian-Syrian border to shield Jordanian and American bases and the capital, Amman.

This special

debka

file

video presentation illustrates US, Saudi, and Jordanian preparations for military intervention in the Syrian civil war and its likely repercussions.
Obama's final decision on US military intervention – consisting of a no fly and a buffer zone in Syria – is expected in the coming two to three weeks, depending on Dempsey's recommendations upon his return to Washington after checking out preparations in Israel and Jordan. In neither operation will US boots touch Syrian soil.
Read More
In the center of the storm
By the way things are being set up it looks like eventually, al Qaeda will likely get control of Syria's chemical weapons. If that happened ..what do you think they will do with them?
...WHEN that happens despite the best of finesse and diplomacy ...what do you think Israel is going

to do?
To give a glimpse into what Israel is facing despite who did what with chemical weapons, in an interview with Arutz Sheva,
[Mark] Langfan observed that the Katyusha fire from Lebanon Thursday morning and the chemical weapons attack a day earlier combine to illustrate the danger that will face Israel if it cedes the high ground of Judea and Samaria. Katyusha rockets carrying chemical warheads, he said, would turn Tel Aviv into "Auschwitz 2.
"
Recent events have now placed the United States in a zero credibility category with the global community.

From Egypt reaching out to Putin

...to

Obama talking of not attending the G-20

summit in St. Petersburg, Russia, to spite Putin for giving Eric Snowden asylum ...and of all things, willfully leaking classified information against the strategic interests of (ally) Israel's national security ...not once...but again according to the August 10 report above.
'We are standing in a thick forest of dry tinder, and the smallest of sparks could ignite a conflagration the likes of which we have never before seen.'
'If you have understood how we arrived here by the short summary provided, then you will see that we are standing on the brink of not just a regional war, but a global war.'
'Those in power do not want you to know their plans until there is nothing anyone can do to stop them.''It is vital to understand that the embassy closures are a signal of the rapidly escalated intervention in the region by the US

.'
from

'Unmasking the embassy threat'

August 3, 2013
By Doug Hagmann
UN chief admits bias against Israel
United Nations Secretary-General Ban Ki-moon met with students at the UN headquarters in Jerusalem on Friday afternoon, and admitted that his organization was biased against Israel.
Earlier Friday, Ban met with Prime Minister Benjamin Netanyahu, who told him that the root of the Israeli-Palestinian conflict was the refusal to recognize the Jewish state "on any border" and had nothing to do with Israel's settlement enterprise. YNet
Read More
With little hope from all the players, the Palestinian peace talks are front and center once again.
Sources with the United States military say Israel is planning an offensive against the Lebanese resistance movement Hezbollah, a political analyst tells Press TV.
On Wednesday, the Lebanese army said an Israeli patrol had crossed the UN-demarcated Blue Line border near the town of al-Labouneh in southern Lebanon, before being hit by a landmine explosion.
"We are told by sources with the United States military that Israel is engaged in armed reconnaissance into Lebanon planning an offensive against Hezbollah…. This offensive is planning on starting very soon," a

senior editor at Veterans Today, Gordon Duf

f

said in an interview with Press TV on Saturday.

The analyst said Israel's primary objective would be destroying Hezbollah, to pave the way for attacks against Iraq, Syria and Iran.
Press TV Iran
Where Duff is coming from with his growing relationship with Press TV isn't exactly clear. However, sharing potentially sensitive and damning information both from alleged 'intel' from US military sources and strategic to Israel ...is not clear.
If this be the case, that US military is leaking information that is undermining Israel's efforts to ensure national security amid ongoing threats by an enemy (Hezbollah) on Israel's border ..a dangerous pattern is developing.
Syrian Missiles Were Moved Before Israeli Strike, Officials Say
New York Times 31 July 2013
WASHINGTON — American intelligence analysts have concluded that a recent Israeli airstrike on a warehouse in Syria did not succeed in destroying all of the Russian-made antiship cruise missiles that were its target, American officials said on Wednesday, and that further Israeli strikes are likely. >

Read more

<
Endrun Project reader statistics indicate that world wide, readers are studying the following article closely. Unfortunately, the majority of US readers have been spending less than five seconds (a mere glance) at what will be effecting all of Humanity (especially the United States and Israel).
Diplomat: Obama approved intelligence leaks on Israeli air strikes in Syria
WASHINGTON — The U.S. intelligence community leaked information on Israeli air strikes on Syria, sources said.

Thursday, August 1st, 2013
Diplomats said the administration of President Barack Obama has enabled
the intelligence community to disclose Israeli military operations against the regime of Syrian President Bashar Assad. They said the leaks included unreported Israeli air and naval strikes on advanced Iranian and Russian weapons that arrived in 2013.
"This is a decision that could come only from Obama," a diplomat said. "[T]his reflects his dismay over the Israeli operations, which the president believes could result in a regional war."
Last month, the U.S. intelligence community reported an Israeli air and naval strike on a recent shipment of the P-800 Yakhont coastal defense system.
The diplomats attributed the leaks to the CIA, which first disclosed the July 5 Israeli strike on Latakia and later said the operation was unsuccessful. The Israeli F-16 multi-role fighters were said to have refrained from entering Syrian air space.
>

Read more
<
Even Israel's enemies understand (in their own best interest) a super power like the United States or Russia
...despite disagreements,

never hurts an ally by compromising their national security (as has The United States with Israel).
Having an overview of events in Syria and the region, Israel has taken aggressive steps to protect its own national security, and continues to do so despite gathering of super power forces and world outcry against Israeli actions
Nothing should be underestimated. The reasons behind current events are beyond politics and affect the entire planet.
W

hat all this means

to you ...and why, is revealed more in depth as you read
further.
Flashpoints
Despite American's obsession for politics and scandals, all the pieces, players and motives are now in place ...and fingers on the trigger with events unfolding exponentially on a daily basis ...

for an inevitable third world war.
The one intolerable situation currently unfolding, is the use of chemical and/or biological weapons in Syria which can either accidentally or intentionally spill over several surrounding borders
...the most likely 'intentional'
scenario across the border of Israel.
Beyond chemical weapons, concerning an already festering problem, Israeli Prime Minister Benjamin Netanyahu told CBS News' Face the Nation 14 July 2013, that Iran will reach the "red line" he laid down at the United Nations in Sep. 2012--90% uranium enrichment--within "a few weeks," and that Israel will be prepared to act. "I won't wait until it's too late," he told CBS News' Bob Schieffer.
Israeli Defense Minister Moshe Yaalon said Thursday that the threats Israel faces have not diminished, but have become "elusive, sophisticated, very dangerous."
Yaalon spoke at a ceremony for naming a street after Amnon Shahak z"l, the former IDF chief of staff who died recently, Givat Shmuel, near Tel Aviv.

Read more
Arutz Sheva
What this means to Israeli security
"We are deep in the era of missiles that are aimed at civilian population areas," Netanyahu said. "We must prepare defensively and offensively for the new era of warfare. The state of Israel is the most threatened state in the world. Around us are tens of thousands of missiles and rockets that could hit our home front."
At some point whether Syria discharges, loses control of, or threatens to use chemical weapons against Israel ...the threat becomes priority over Iran and Israel must defend itself decisively.
Officials warn of Syria conflict quickly spiraling out of control
By Times of Israel staff May 21, 2013, 1:54 pm

Army chief says flare-ups could devolve into serious confrontations; minister predicts rockets on Israeli cities 'only a matter of time'
"A day doesn't go by in which we don't have to make decisions that could lead us to a sudden and uncontrollable deterioration," he said. "That is something that will be with us for the near future. We need to be more alert."
Erdan said the answer to the question of "when" doesn't really matter, because "it could happen tonight, it could happen next week. Flare-ups along our borders aren't something only dependent on the IDF or its will."
Scud missiles fired in Syria by Assad forces against rebels
Numerous agencies including NATO, reported the launch of Scud-type ballistic missiles in Syria and the military alliance condemned the alleged use of the unguided weaponry, with an official telling the Reuters news agency it, "shows utter disregard for the lives of the Syrian people."
Scud missiles, originally developed by the USSR, are ground-to-ground missiles with a potential range of hundreds of miles, which are capable of carrying conventional or nonconventional warheads. The transfer of such weapons from the Syrian government to rebel hands, as a result of the Syrian civil war, is a scenario with great potential threat to Israel. In December, US and NATO officials confirmed rebel reports that Syrian forces had fired Scud missiles at rebel areas in the north. That was the last confirmed use of such weapon
s.
Even an accident would kill thousands of Israelis

but

a

false flag attack in the name of an 'accident' is more likely.
Israel has known about Syria's chemical weapons for many years and is prepared to neutralize them if they ever become an imminent threat to the people of Israel.
Now

consider

the scuds being shot b

y

Assad forces
containing sarin gas or biologica

l warheads
only seconds away from Israeli population centers. They

don't

even need to be accurate. We already know of rockets, artillery and mortar shells falling into Israel,

Jordan, and Turkey

as the running battle in Syria rages

on.
Notwithstanding, with intent for use against Israel, Hezbollah has been receiving better more sophisticated and accurate missiles from Iran for quite some time, and will cooperate with anti-Israeli insurgents within Syria.
Israel's defenses failing to keep up with terrorist rocket capabilities, experts warn
i24news
Published
July 24th 2013
As good as

I

srael's Iron Dome missile defense system is ...were a missile launched toward Israel

deliberately

...to eliminate the threat

,

in the interest of Israeli National security and protection of Israeli people, Israel has only minutes to vaporize the weapons including

Damascus

if necessary or, take preemptive measures as being considered against Iran

...only Syria's chemical weapons are here and now.
JERUSALEM, July 28 (Xinhua) -- The Israel Navy has begun outfitting its main battleships with a new missile system amid growing threats posed by Syria's alleged stockpile of advanced anti-ship missiles, the Yisrael Hayom daily reported Sunday.
"No ships in history have been capable of controlling vast expanses like the Israel Navy will be able to with the Barak 8," Yisrael Hayom cited a source "familiar with the details" as saying >Read More<
The Barak 8 would provide Israeli naval craft with a defense against the Russian Yakhont missile, a potent anti-ship weapon that Israel sees a threat to its navy, especially if it falls into the hands of Lebanese terrorist group Hezbollah. A Russian shipment of the Yakhont missiles was allegedly destroyed in Syria by Israel a few weeks ago.
The missile is being installed on Sa'ar 5-class warships, Israeli media reported on Sunday.

The new missiles are co-developed by India and Israel.
The missile's radar allows operators to simultaneously engage multiple targets, and intercept an incoming missile as close as 500 meters from a naval craft.
Israel ready to act on Syria weapons, warns Netanyahu
18 April 2013 BBC News
Israeli Prime Minister Benjamin Netanyahu has told the BBC that Israel has a right to prevent weapons from falling into the wrong hands in Syria. (
see video interview
)
Sarin gas and certain biological agents and delivery systems of mass destruction in Syria's arsenal are so

lethal

and fast moving only one option has been considered effective in short notice

(capable of fulfilling such a Prophesy as above)
U.S. officials stressed that as of now, the sarin bombs hadn't been loaded onto planes and that Assad hadn't issued a final order to use them. But if he does, one of the officials said, "there's little the outside world can do to stop it."
Report: Israel bombs Syrian chemical weapons base
Monday, April 29, 2013 | Israel Today
The Free Syrian Army (FSA) reported at the weekend that Israeli warplanes had bombed a chemical weapons base in Damascus. The Israeli government gave no response.
FSA forces and the Syrian army were reportedly battling close to another chemical weapons base on the outskirts of Damascus on Monday, with the outcome of the battle still very much undetermined.
News spreads around the world as Israel make an airstrike in Syria on a convoy from Lebanon carrying
Russian SA-17 Rockets.
Israeli fighter jets targeted a military research center near Damascus early on Wednesday morning, Syrian state news agency SANA said citing army official

s.
The Syrian army's general command has issued a statement, saying an airstrike was launched by the IAF targeting a military research center in Jamraya, rural Damascus.­
"Israeli fighter jets violated our air space at dawn today and carried out a direct strike on a scientific research center in charge of raising our level of resistance and self-defense," the army statement said as cited by SANA.
Airstrikes on Syria continue
Report: Israel Bombs Another Syrian Weapons Convoy


7/28/2013, 7:22 PM Arutz Sheva


IAF jets bombed trucks carrying missiles to Hizbullah, according to Syrian opposition sources.
Israeli air force jets bombed trucks carrying Syrian missiles bound for Hizbullah's warehouses in Lebanon, according to Syrian opposition sources. The sources, were cited Sunday by Voice of Israel radio's Arabic-language service, which was quoted by i24 News.

The Friday night bombing reportedly targeted a Syrian military base near the town of Quneitra, not far from the Golan Heights cease-fire line.

This was the fifth known Israeli attack this year on Syrian weapons bound for Hizbullah. Syrian strongman Bashar al-Assad reportedly wants to send the weapons to Hizbullah for safekeeping, out of fears they will fall into the hands of the rebels forces fighting him inside Syria, whilst the Iranian-backed terrorist group seeks "game changing weapons" - such as anti-aircraft missiles - in exchange for its costly intervention in the Syrian civil war on behalf of the Syrian regime.

In the most recent such reported attack, a series of explosions rocked the Syrian port of Latakia, on July 5.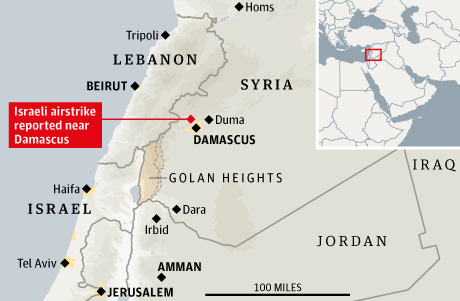 Israel used a Turkish military base to launch one of its recent airstrikes against Syria from the sea, a reliable source told RT. Israel has been under scrutiny since last week, when it was reported to be responsible for a July 5 depot attack in Latakia. >

R

ead

M

ore<
News that Turkey assisted Israel in attacking another Muslim state could result in serious turmoil for Ankara, once the information is confirmed.
"Our source is telling us that Israeli planes left a military base inside Turkey and approached Latakia from the sea to make sure that they stayed out of Syrian airspace so that they cannot become a legitimate target for the Syrian air force," RT's Paula Slier reports.
In late January, an airstrike hit a weapons convoy that carried Russian-made SA-17 surface-to-air missiles, marking the first incursion by Israel into Syrian airspace in six years.
In May, Israeli warplanes conducted two days of airstrikes, targeting a shipment from Iran of Fateh-110 missiles. Such missiles have the capability to strike Tel Aviv from southern Lebanon.
Middle East expert and historian, Tariq Ali told RT that Israel continues to attack Syria to get square with Hezbollah.
"Hezbollah is like a red [rag to a] bull to Israelis and Israelis haven't been able to wipe it out, though they tried many times. Now they are hoping they can do it by weakening or completely destroying the Syrian regime. Indirectly they are providing help to the rebels," Ali said. "Israel is a country that considers itself above the law." >

Read more

<
MOSCOW, July 14 (RIA Novosti) –

Speaking on American television on Sunday, Israeli Prime Minister Benjamin Netanyahu evaded a direct response when asked whether his country was involved in a recent airstrike in Syria that reportedly targeted Russian missiles sold to the Syrian government, an ally of longtime Israeli enemy Hezbollah.




However, Netanyahu said, Israel's policy "is to prevent the transfer of dangerous weapons to Hezbollah and other terror groups," according to a transcript of the CBS-TV show, "Face the Nation," that was obtained by The Associated Press.

Netanyahu refused to confirm or deny Israeli involvement in the July 5 airstrike, news of which was leaked to The New York Times on Saturday by US officials speaking on condition of anonymity because they were citing intelligence reports.

According to those officials, Israel carried out the airstrike to destroy Russian Yakhont anti-ship cruise missiles at Syria's principal port city, Latakia. The missiles allegedly compromised Western powers' ability to provide weapons and other supplies to the Syrian rebels, as well as impose a blockade or no-fly zone. >

Read more

<
Growing Tensions
Revenge of the Bear: Russia Strikes Back in Syria
Truthdig 20 May 2013
Putin, not visibly mollified by Netanyahu's clarification, responded by announcing forcefully that he had sent to Syria Yakhont anti-ship cruise missiles and was planning to dispatch sophisticated S-300 anti-aircraft batteries.
Both U.S. Chairman of the Joint Chiefs of Staff Gen. Martin Dempsey and Israeli military analysts protested the Russian shipments. Although Netanyahu went on insisting that Israel would bomb Syria at will when it suspected supplies were being sent to Hezbollah, Putin had clearly just raised the risks of such intervention.
When sources in the Pentagon leaked the information that explosions in Damascus on May 5 were an Israeli airstrike, Putin appears to have been livid. He tracked down Netanyahu on the prime minister's visit to Shanghai and harangued him on the phone. The two met last week in Moscow, where Putin is alleged to have read Netanyahu the riot act. Subsequently, the Likud government leaked to The New York Times that its aim in the airstrike had been only to prevent Syrian munitions from being transferred to Hezbollah in Lebanon, not to help in overthrowing the Baath government. The Israelis were clearly attempting to avoid further provoking Moscow's ire, and wanted to send a signal to Damascus that they would remain neutral on Syria but not on further arming of Hezbollah.
Putin, not visibly mollified by Netanyahu's clarification, responded by announcing forcefully that he had sent to Syria Yakhont anti-ship cruise missiles and was planning to dispatch sophisticated S-300 anti-aircraft batteries. Both U.S. Chairman of the Joint Chiefs of Staff Gen. Martin Dempsey and Israeli military analysts protested the Russian shipments.
Although Netanyahu went on insisting that Israel would bomb Syria at will when it suspected supplies were being sent to Hezbollah, Putin had clearly just raised the risks of such intervention.
Of course the ousting of Morsi and arrests of Muslim Brotherhood leaders by the Egyptian military
in response to the biggest protest in Human history by the people of Egypt sets a new tone on one side of Israel's borders.
In as much, the United States has placed military readiness in position to what appears to be support the Muslim Brotherhood and a show of strength in the wake of Israel's recent attack on a Syrian missile storage facility alleged to be stocked with Russian missiles.
While Americans focus on politics, the rest of the world is bracing for an unprecedented event which will not only effect the United States as we know it ...but all of Humanity.
As stated above, ... '
you are going to want to read the entire article including Biblical Prophecy regarding events taking place at this very time in history...'
The United States positions naval forces and troops in the Suez off of Egypt, Russia has already moved naval forces into the Mediterranean for the first time in decades.
Russian warships enter Mediterranean to form permanent task force
Russia Today 17 May 2013
Warships from Russia's Pacific Fleet have entered the Mediterranean for the first time in decades. Russia's Navy Chief says the task force may be reinforced with nuclear submarines, as the country starts building up a permanent fleet in the region.

"The task force has successfully passed through the Suez Canal and entered the Mediterranean. It is the first time in decades that Pacific Fleet warships have entered this region," the Pacific Fleet spokesman, Capt. First Rank Roman Martov told RIA Novosti
So what does this all mean to you?
Perhaps only folklore to some ...while Americans intensely focus on politics ... everyday since the beginning of 2012 ...strategic events are taking place behind the scenes concerning the Middle East region and Israel collectively setting the stage for the

'

Battle of Armageddon

'.
Mistaken by many, the scenario building up now is not a build up to
Armageddon
...nevertheless, significant in that it will most probably be nuclear, is a fulfillment of Prophesy and the entrance of the anti-Christ, rebuilding of the Temple and prelude to the final
Battle of Armageddon.
T

he War of Gog and Magog or World War III as described in prophesy could be triggered in the blink of an eye as you read this, tomorrow ...or months from now ...but the final battle; '
Armageddon

'
soon comes after completion of the rebuilding of the temple resulting from the peace that comes after the War of Gog and Magog.
Read more in depth exactly what's happening and why:
Israel 2013 where things go wrong and why!
Watch out that no one deceives you!
Matthew 24
Related Articles
To understand why these articles are frequented by governments, world leaders and global journalists, new readers, journalists, political or 'religious' 'pundits' are encouraged to set aside failing

'conventional wisdom

', read between the lines and connect the dots.

Contents are documented with current events,

vetted

sources and minimal speculation.
Recommended
Israel